I'm throwing a curve ball at you guys today. I decided that I wanted to try a new meme out today. I found a meme from the Social Calendar over at
Our Mommyhood
that looked like fun.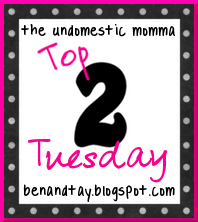 This week she wants us to share the "Top 2 Random Facts About Yourself."
1. I don't like chocolate covered anything. No fruits, pretzels, nuts, you name it! Peanut butter would be the only exception. I love my Reese's!
2. I've never been to Disney World or Disneyland. I know, I'm deprived.